William West Durant
ADIRONDACK GREAT CAMPS – PINE KNOT – UNCAS – SAGAMORE – KAMP KILL KARE
---
Raquette Lake | William West Durant | Great Camps | Clergy | Time Line | Writings | Documents | Bibliography
---
Camps on or near Raquette Lake
1877 – GREAT CAMP PINE KNOT
(CAMP HUNTINGTON)
 
 
 
 Metcalf
originally where the men had cigars
and brandy after dinner
  1881 Stoddard photo
1st building constructed by
Dr. Thomas Durant c1877
 Swiss cottage
 
 
 1888 Stoddard Pine Knot grounds
 1888 Stoddard Pine Knot interior
 
 
 
 National Register of
Historical Places in 1986
 Sitting Room
 Floor to ceiling fireplace
 
 
 
 Named in honor of Dr. Harlan Metcalf
who "discovered" abandoned camp
in 1947
 2007 view of Chalet
William Durant added 2nd floor c1882
 Cabin
 
 
 
 Lean-to
 Side door of Chalet
 Lean-to
PINE KNOT – William West Durant continues to have a strong influence on the Adirondack style of architecture. His travels in Europe had exposed him to the Swiss chalet style which he combined with his thoughts on leaving the existing natural environment undisturbed. In addition, A.J. Downing in 1850 and Calvert Daux in 1857 had published works acquainting the American public with the chalet style.
Most construction materials were gathered or made on-site. [4] Durant's first Great Camp, Pine Knot [5], was started by his father, Dr. Thomas Clark Durant, in 1877 as a group of rough cabins and was taken over by William in 1879. Construction on the 201-acre site continued through 1892.
Pine Knot was the first artistic camp, a beautiful showplace where the Durants entertained the rich and famous, hoping to interest them in building their own camps in the woods.
In 1895 Pine Knot was sold to Collis P. Huntington, the railroad magnate, in settlement of a debt. As Durant completed one home, he would often live in it for a time and then sell the property to help finance his next project.
The rustic design – native stone, bark and whole logs – of many of the buildings in the New York State Park System, and of the Old Faithful Inn at Yellowstone, was influenced by the Adirondack style. [6]
Pine Knot was added to the National Register of Historic Places in 1986 and was named by the National Park Service as a National Monument in 2004.
Pine Knot History    |    Return to 1920s Steamer Route
~~~~~~~
1893 – GREAT CAMP UNCAS
 
 
 1899 Gate to Uncas Road
Stoddard photo
 1899 Uncas Road
Stoddard photo
 
 
 
 1957 Interior Main Lodge
 1957 Dining Hall
 1957 JP Morgan Bedroom
 
 
 
 Hawkeye Cabin
 Hawkeye Cabin from the lake
  1906 ad for stain used at Uncas
Quote from John Callahan
UNCAS – As wealthy home owners began to demand more and more comforts and luxuries from their vacation homes, Durant's beautiful camps continued to attract famous names such as J.P. Morgan and Alfred G. Vanderbilt. In 1895 a New York City newspaper reported "Financier J. P. Morgan's Adirondack camp, Camp Uncas, is completed by promoter William West Durant." 7
Yet Alfred L. Donaldson, after a 1920s conversation with William Durant, writes in his A History of the Adirondacks that Uncas on Lake Mohegan was completed in 1890 and then sold to Morgan in 1895 in settlement of a debt.8
Uncas was owned by Herb Birrell during the 1950s who operated it as a museum. It is now the summer home of the Kirschenbaum family who in 1975 were able to purchase 16 acres and nine buildings from the Rockland County Boy Scout Council.
1950s Brochure page 1 | page 2
During that 1920s Donaldson interview, Durant reminisced that he had never appreciated the financial circumstances into which he had been born. "When I start a new project, I want the finest materials available, the best of everything. I never considered the cost."
In 1987 Uncas was listed on the National Register of Historic Places and in 2008 was recognised by the National Park Service as a National Monument.
Today properties like these have come to be recognized as historical and architectural treasures, but in the late 1970s they were considered "white elephants" and could be bought for a song.  Sagamore, formerly owned by Syracuse University, became our conference center where we could house 100 participants and staff. Uncas became our private "camp."
-Howard Kirschenbaum in a 2001 Interview
Great Photos – Uncas Photo Collection
~~~~~~~
1897 – GREAT CAMP SAGAMORE
 
 
 Main Lodge
 1970s View
 
 
 
 c1897-99 Durant's Boat House
 1928 George's Cottage & 1898 Laundry
c1901 Playhouse
designed by William Coulter
 
 
 
 c1914 Bowling Alley
still used today
 Sagamore Lake
formerly Shedd Lake
  c1924 Dining Alcove
enlarged by Vanderbilts
SAGAMORE was reputably William West Durant's favorite home, where he lived until financial circumstances forced him to sell to Alfred G. Vanderbilt in 1901. The Vanderbilt family owned Sagamore until 1954. Following the plan of Durant's previous camps, the 1,524 acre estate was built on peninsula jutting out into a lake, Shedd Lake, renamed Sagamore.
In 1913 the Vanderbilts decided to make Sagamore their main vacation home and began a two-year program of expansion and improvement. Telephone service was installed in 1914 as well as a water and sewage system as advanced as any city in the country. And in 1915 electricity replaced the gas lights.9
After Vanderbilt's death in 1915 on the Lithuania, his widow kept the Sagamore property until 1954 when it was deeded to Syracuse University. It is now run by the Sagamore Institute, a non-profit organization.
Credit needs to be given to Professor Howard Kirschenbaum and his wife Barbara Glaser who created the National Humanistic Education Center in 1970 and were instrumental in saving Sagamore from being torn down and the land returned to the state.
In 1976 Sagamore was listed on the National Register of Historic Places with additional buildings added in 1986.
And in 2000 Sagamore had the distinct honor to be named by the National Park Service as a National Landmark. These are "exceptional places that form a common bond between all Americans….the spirit and direction of the Nation are founded upon and reflected in its historic heritage."
~~~~~~~
1898 – GREAT KAMP KILL KARE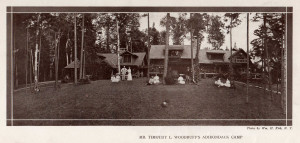 Published 1904 – Burr McIntosh Monthly
William H. Kirk, photographer
 
 
 1899 Surveyors on Lake Kora Road
Stoddard photo
 1899 Man at Kamp Kill Kare PO Box
Stoddard photo
In 1898 William West Durant built a rough hunting cabin on Sumner Lake, which was expanded into a luxurious Adirondack estate by New York State Lieutenant Governor Timothy Woodruff. The lake was renamed Lake Kora after Woodruff's wife, Cora.
In 1913 Alfred G. Vanderbilt purchased nearby Kamp Kill Kare from Woodruff in order to have some control over who his Sagamore neighbors would be. He then sold Kamp Kill Kare in 1914 to Mr. and Mrs. Francis P. Garvan.
Unfortunately in April 1915 a fire damaged much of the original structure, which was immediately redesigned by architect John Russell Pope for the new owner. Kill Kare was in the Garvan family for almost a century and is still a private camp.
Another fire in February 2009 partially destroyed an historic 1910 stone barn on the property. According to a firefighter who was first on the scene and stayed until the fire was out:
"The Raquette Lake Fire Department with the able assistance of seven other area fire departments was able to stop the fire from advancing at the point where the buildings no longer had connecting roofs. The 'U' shaped barn structure had severe damage to the bottom of the 'U'."
There were no injuries.
1930 Winter View of Kamp Kill Kare
~~~~~~~
WILLIAM WEST DURANT – In 1926, after all of the wealth and grandeur, Durant and his second wife, Annie Cotton Durant, were found living in a modest half-basement apartment at 501 Fifth Avenue in the West Central Park area of New York City.10 Due to family problems, business failures and the unexpected death in 1900 of his financial backer, Collis P. Huntington, Durant declared bankruptcy in 1904 and rarely returned to his beloved Adirondacks.
At the time Durant said he was handicapped by being brought up in wealth without being taught the value of money. He died in 1934 at the age of 83.
But the legacy of William West Durant lives on as each succeeding generation takes on the mantle of conservator of the Adirondack Park.
And the legacy continues in the Great Camps two of which, Pine Knot (Camp Huntington) and Sagamore, are open to the public by appointment.
Return to William West Durant
~~~~~~~
Links to additional information
Pine Knot
Sagamore
History of Adirondack Architecture
Great Camps of the Adirondacks – Harvey Kaiser
Adirondack Design – Michael Bird
Great Camps Tour
National Park Service
1969 American Heritage – "The Adirondacks"
1981 Adirondacks Survivors: Rustic "Grand Camps"
2002 "Camping like the Vanderbilts in the Adirondacks"
---
Return to Raquette Lake Photos      |      Return to William West Durant
---
NOTES and BIBLIOGRAPHY
4 Spider Rybaak. "Log Palaces." Syracuse New Times Net. June 1998. [Online] Available HTTP: http://newtimes.rway.com/1998/061098/cover.htm. [August 21, 2004].
5 Unknown. [from Harvey H. Kaiser. Great Camps of the Adirondacks. (Boston: David R. Godine. 1982). p 74, 179, 181]. [Online] Available HTTP: http://www.tomdeering.com/thesis/figures2.htm. [August 7, 2004].
6 United States Department of the Interior. National Park Service. Adirondack Camps Theme Study. pp 3-4. [Online] Available HTTP: http://www.nps.gov/nhl/learn/specialstudies/AdirondackCamps.pdf. [August 7, 2004].
7 Minor. NYNY Index 1893-1896. [Online] Available HTTP:
http://home.eznet.net/~dminor/NYNY1893.html. [August 7, 2004].
8 Alfred L. Donaldson. A History of the Adirondacks. 2 vols., Fleischmanns, New York: Purple Mountain Press, Inc., 1996. Paperback reprint of 1921 edition.
9 Howard Kirschenbaum. The Story of Sagamore. Raquette Lake, New York: Sagamore Institute, 1990. pp 25-26.
10 Richard M. Kolbet. "The Levi 0. Leonard Railroad Collection." Books at Iowa 8. [U of Iowa April 1968.]. [Online] Available HTTP: http://www.lib.uiowa.edu/spec-coll/Bai/kolbet.htm. [July 3, 2004].