RAQUETTE LAKE RAILWAY
1900-1933
| | |
| --- | --- |
|  1907 |  1930 |
|   |   |
|  Eagle Bay to Clearwater |  Eagle Bay to Carter (Clearwater) |
 1909 Station & Dock
 1909 Colorized
 1909 Station & Dock from Barge
 
 
 
 c1905 H.M. Beach photo
A Glimpse of the Store & Hotel
 c1914 Hotel in center of return loop
hotel & store have been enlarged
 1917 View of Raquette Lake Station
 
 
 
 Steamer Adirondack awaiting
passengers at train station
 1914 tracks parallel the
Old Forge / Inlet road (Route 28)
 1960 Old Station Restaurant
burned down December 1972
"The Raquette Lake Railway started as a small lumber line, pushing from Carter into the woods. Carter, originally called Clearwater (with no apparent water in sight), was buried in the back woods. A passing track connected to a 'Y' with the connection to the Raquette Lake Railway, which went to, you guessed it, Raquette Lake…."
continued in "The Adirondack Line" by Malcolm Alberry
used by permission
Click here for a 2006 NPR interview describing the train ride from New York City to Carter to Raquette Lake about 1919. It is the first few minutes of a six-minute interview with a long-time Raquette Lake resident we have had the privilege of knowing since 1959.
~~~~~~~
The Raquette Lake Railway Company was chartered on 20 February 1899 and dissolved on 17 August 1938. Trains ran from 1900 until the final trip on 30 September 1933. The tracks were taken up in 1934.
John C. Rank, who signed the reverse of the 1930s ticket, was the conductor of record, possibly until the last train in 1933. In its heyday, the railway carried over 10,000 visitors each season.
Stockholders included the well-to-do who had camps in the area – the Durants, Huntingtons, Webbs and the Whitneys who were tired of the long dusty journey by stagecoach from the Fulton Chain Station (now Thendara), or the 37-mile buckboard ride from North Creek to Blue Mountain Lake and then by steamer to Raquette Lake.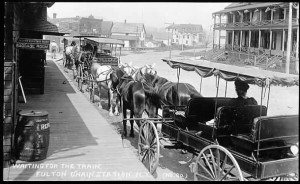 Fulton Chain Station (Thendara)
The new 18-mile spur of the New York Central made travel possible from New York City direct to the village of Raquette Lake.
Robert Collier had his Curtiss-Wright bi-plane dismantled and brought to Raquette Lake in freight cars. This caused much excitement in the village and may have been the first flight over the Adirondacks. There are photos at the Adirondack Museum.
In the early 1920s the railway even carried fresh lilies from New York City to Raquette Lake in a refrigerated boxcar for the Brown-Serman/Carrington wedding on St. Hubert's Isle.
~~~~~~~
Notes
Clearwater appears to have changed its name to Carter during the month of June 1912. The railway work logs now at the Adirondack Museum list Clearwater for the first half of the month, then Carter for the second half. And yet there is a 1931 postcard with a Clearwater cancellation.
More specs on a Yahoo message board (click past the ad).
~~~~~~~
Also thanks to Lisa Slaski and Larry Myers for their contributions to this page
---
Return to Raquette Lake Photos      |       To Marion River Carry Railroad      |      Page 2 >>>