Family Carries On
Ann Caroscio Carmichael 1947 – 1989
Press Republican (Plattsburgh, NY)
January 18, 2004
Family carries on
Mother paralyzed in accident 20 years ago
ANNA JOLLY Staff Writer
| | | |
| --- | --- | --- |
| | | |
| Young Ann | HS Yearbook | Leaving for College |
PLATTSBURGH — Twenty years ago, Kristen and Megan Carmichael spotted their mother's wrecked car from the window of a school bus. The girls' mother, Ann Carmichael, was driving on Interstate 87, the morning of Jan. 25, 1984, when a truck driver realized he took a wrong turn and began backing up on exit 37, trying to re-enter the Northway.
Ann, who was 10 weeks pregnant with her seventh child, could not avoid hitting the back of the cement-filled truck [flat-bed loaded with cinder blocks].
Kristen was sitting on the bus with friends when Megan recognized the seat covers from the destroyed car.
The nervous sisters spent the day at Cumberland Head Elementary School and hours later were told that their mother was in the hospital but they couldn't see her.
Ann was paralyzed from the neck down and would not walk or speak for the rest of her life.
"We didn't really understand what was happening, at first," Kristen said about the children's reactions.
Ann remained in Intensive Care in Vermont until her son Andrew was born.
"I think she wanted to live so she could carry him to term," Kristen said.
| | | |
| --- | --- | --- |
| | | |
| June 1971 Wedding Reception | Ready to toss the garter | c1979 Ann Matt Megan |
The Carmichaels lived in a small house on Cumberland Head where the children shared bedrooms, Kristen recalls, and the space was not suited for a disabled person.
Kristen, who was 6 years old then, is the third of the seven children and said the two oldest, Matthew and Megan, have clearer memories of what their mother was like before the accident.
"We used to go to the beach a lot," Kristen said. "People would say she always had a kid in her arms."
Ann communicated with her husband, also named Andrew, and her children by blinking her eyes to Morse Code. A chart hung above her bed so Kristen and her siblings could decipher what she was trying to say.
Kristen's father told each of the children to spend at least 15 minutes a day with their mother. They would read and talk to her, but it was hard for the younger children because conversations went slowly.
"She could smile, though," Kristen said.
1980 Andy Jean Laura & Ann
Kristen Matt Megan Cosette
1981 Ausable Chasm – Ann & Kate
Kristen Laura Megan
HOLIDAY SURPRISE
Andrew owned the Music Manor in Plattsburgh and gave it up to care for his wife and children, who ranged in age from 11 to newborn.
"It must have really hard for my dad," Kristen said. "She was the love of his life."
Adding to the stress, the Carmichael family was destitute for two years after the accident.
Kristen and one of her younger sisters, Kathleen, remember a visit from Santa at Christmas and opening more presents than ever, but they didn't realize then that everything was donated.
1982 – Matt Megan
Lea – 3 days old
Lea in cradle – 5 days old

1983 Lea & Ann at Island
MOVE TO BIGGER HOUSE
The family eventually won a settlement that allowed them to move to a much larger house on Wallace Hill Road, where they added a lift for Ann. Kristen doesn't know the settlement amount but said it was enough to pay for medical bills and home nurses.
Andrew and Ann had no family in the area, so the children helped cook, clean and baby-sit.
"We really saw a lot of responsibility and helped raise each other," Kristen said.
Ann's health was precarious, and she spent months at a time at CVPH Medical Center. In 1989, about five and a half years after the accident, she died of pneumonia.
"I actually thought she was going to walk again or live until she was an old lady," Kristen said.
Kathleen, now 23, also thought her mother would eventually recover.
"I remember thinking that dad might die," Kathleen said.
| | | |
| --- | --- | --- |
| | | |
| 1984 Family visiting Ann | 1985 Ann & Andrew | 1989 Ann's 42nd birthday |
LOOKING BACK
Kristen keeps a picture of her mother on her refrigerator and has a few family portraits taken before the accident.
"I think about her every day," she said.
As she got older, Kristen began to comprehend the pain her father felt after the accident — pain he carries with him today.
"The first time I fell in love I really gained perspective on what it must be like to lose someone," she said.
Kathleen doesn't have memories of the crowded first house they lived in, but she remembers her older brother and sisters caring for her mother.
"I miss not having a mom," Kathleen said. "I don't feel as girlie."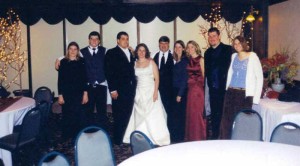 2003 Family at Laura's wedding
Kate Andrew Chris & Laura Andy Megan Kristen Matt Lea
CLOSE FAMILY
Matthew, the oldest child, lives in the Albany area and owns his own computer business. Megan is an office manager in Troy and is engaged and has a child. Laura lives in Plattsburgh with her husband and son. Kathleen and Lea attend SUNY Potsdam, and Andrew, the baby delivered by his paralyzed mother, goes to SUNY Albany.
After taking a few years off to help her dad, Kristen completed her bachelor's degree at Plattsburgh State and is now working toward her teaching master's there.
Their father works locally in real estate.
"We all turned out pretty well," Kristen said. "We're so close now that we're all grown up."
Kristen has been thinking about the accident lately and the community response that followed.
"There're so many people who helped us at that time," she said. "We never forgot, and we're really grateful."
Copyright 2004, Ottaway Newspapers, Inc.
---