(Click image for larger view)

Marion River Carry RR and [Merwin's] Blue Mountain House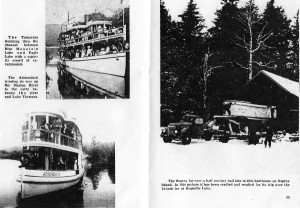 Steamers Tuscarora, Adirondack and Osprey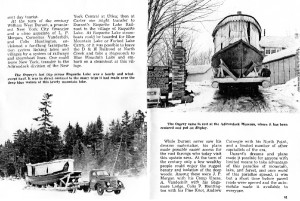 Osprey leaving Raquette Lake for the Adirondack Museum
North Country Life – Fall 1957
Photos of Blue Mountain House and Osprey by Jim Fynmore
Other photos courtesy Adirondack Museum
Jim Fynmore was the co-author and illustrator of "Black Cotton Stockings" with Ron Ryder about the old days in Boonville, New York, published in 1954 by New York Country Books. Mr. Fynmore was a well-known photographer and writer in the Adirondacks whose photos were included in many other publications.
He also was the author and photographer of "The Central Adirondacks: A Picture Story," published by Prospect Books in 1955. It contains a large number of excellent black and white photos and some copies can still be found.
His son, Edward P. Fynmore, is the owner of the Fynmore Studios and Art Gallery on Main Street in Boonville.
---
Return to Adirondack Writings      |      Return to MRCRR      |      Return to Adirondack Museum