Welcome to the official website for St. Hubert's Isle! Here you'll be able to explore our rich history through stories, photos, and research.
Since the 1700s nature lovers, sportsmen and vacationers have been attracted to beautiful Raquette Lake in the Central Adirondacks of New York. A vintage railway brochure from 1900 lists the lake's old Indian name as Killoquah – meaning rayed like the sun – appropriate to its shape. The 98 miles of shoreline, deep bays where lake trout love to hide and waterways from the Marion and Raquette Rivers to Blue Mountain Lake bring visitors from all over.
The cottage on St. Hubert's Isle is up for rent! View the rental page for accommodations, points of interest, testimonials, and further details.
View places of interest for when you'll be in the Raquette Lake area!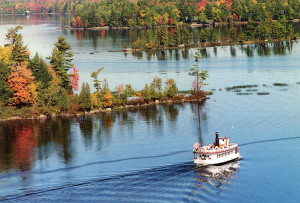 Delve into the history of Raquette Lake, including St. Hubert's Isle, as well as that of the Adirondacks.
View an extensive collection of Raquette Lake photography gathered over the years; explore the rich history of the area via a comprehensive visual experience.